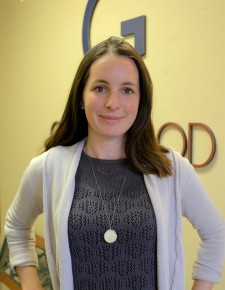 News
-
updated: May 14, 2018
Austrian native and marketing professional Marlene Neidert adds technical skills and a global perspective to Glenwood Springs tourism promotion efforts.
Glenwood Springs, Colo. (April 19, 2018)—Born in Vienna, Austria and a globe-trotter by heart, Marlene Neidert brings a muscular background in digital media marketing, as well as an international viewpoint to her new position as Tourism Promotion Project Manager at the Glenwood Springs Chamber Resort Association.
Even though Neidert was vacationing in Thailand at the time, she interviewed with Lisa Langer and search committee members of the Glenwood Springs Tourism Promotion Board via Skype. "Across the continents, Marlene was the obvious choice," Director of Tourism, Lisa Langer, said. "Her experience and agility in social media strategy, tourism marketing and content building stood out; her fluency in multiple languages has already proven to be an asset for Glenwood Springs."
As Tourism Promotion Project Manager, Neidert will primarily be responsible for managing VisitGlenwood.com social media and website content, as well as monitoring analytics. Other duties include generating and following up on group sales leads and attending industry shows including the upcoming IPW Denver, the travel industry's premier international marketplace.
"I believe the perfect vacation starts with the perfect user-journey—beginning with the first spark of interest; leading to accessible information about lodging, dining and attractions; and, on to an easy-to-navigate booking process—culminating with a Glenwood Springs vacation that exceeds expectations and leads to a lifelong relationship with the customer," Neidert said.
Neidert graduated from the St. Pölten University of Applied Science with a bachelor's degree in media management. She went on to work for several German language media outlets creating content for newspapers, blogs and social media platforms; and later as an account manager for Ploner Communications in Vienna. Neidert relocated to Colorado with her husband in 2014. Before arriving in Glenwood Springs, she was the marketing and sales manager for The Adventure Company, a whitewater rafting company based in Breckenridge.
About Glenwood Springs
For more information and to plan a visit please see www.visitglenwood.com. Glenwood Springs is located between Aspen and Vail, Colorado, 160 miles (257 kilometers) west of Denver or 90 miles (145 kilometers) east of Grand Junction on Interstate 70 off exit 116. An online media room is available at www.visitglenwood.com/media. B-roll video footage is available upon request.
Media Contacts:
Lisa Langer, Director of Tourism
​Glenwood Springs Chamber Resort Association
970-230-9035
Lisa's email 
or
Patsy Popejoy, Communications Director
Resort Trends, Inc. – tourism communications
317-509-7384
Patsy's email